Clinical Aromatherapy for Palliative and Comfort Care
Recommended by Doctors, Used by Hospitals®
Dr. Meaghann Weaver of Children's Hospital & Medical Center (Omaha, Nebraska) has published the results of her palliative care study utilizing Aeroscena®'s Ascents®-brand clinical aromatherapy inhalers in Cambridge University Press' journal Palliative and Supportive Care.
Researchers found that the three Ascents aromatherapy formulas used in the study (Nausea Relief, Calm, and Focus) represented effective supportive care interventions for patients experiencing pain, nausea, and anxiety.

Ascents inhalers are the only natural, hands-off, and evidence-based way to help relieve many common, disruptive medical symptoms in palliative, comfort care, and hospice environments, including:
- Postoperative Nausea and Vomiting (PONV)
- Chemotherapy-Induced Nausea and Vomiting (CINV)
- General Nausea
- Anxiety
- Insomnia
- Pain
Ascents clinical aromatherapy inhalers were developed specifically for use in healthcare environments in order to deliver consistent doses of clinical-grade aromatherapy in a closed, easy-to-use, and sterile delivery system. This is one reason why Ascents products are Recommended by Doctors, Used by Hospitals®.

Pediatric palliative care patients at Children's Hospital and Medical Center demonstrated dramatic reductions in nausea and pain, as well as improvements in mood, when given Ascents inhalers for symptomatic relief.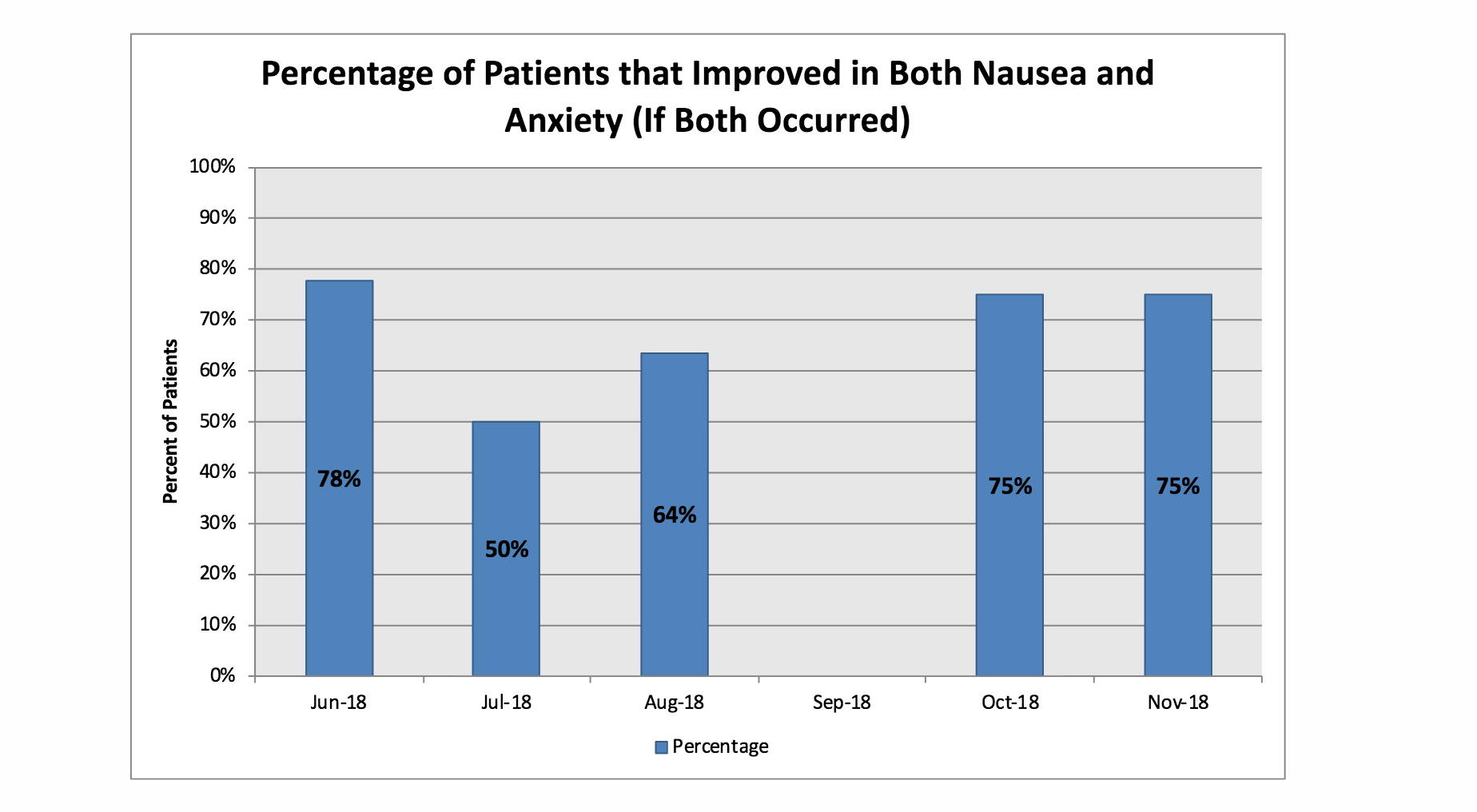 Patients undergoing chemotherapy at a major American cancer center given Ascents Nausea Relief and Calm formula inhalers reported major symptomatic improvement throughout all five months of treatment.

Ascents Clinical Aromatherapy Patches & Inhalers

for Palliative + Comfort Care
Ascents Clinical Aromatherapy Whole-Room Diffusers for Palliative + Comfort Care
Why Choose the Ascents Diffuser System?
Ascents® whole-room diffusers utilize our proprietary Ascents Gel technology, formulated to provide at least 30 days of aromatherapeutic benefits even at the highest levels of diffuser output across up to 600 sq. ft.

Diffuser scent output is optimized via customizable interval settings and timing options, preventing onset of scent habituation.


Ascents Inhalers utilize a unique system for personal diffusion designed upon the principles of fluid dynamics. Utilizing special outer packaging to protect the oils from degradation, and a surgical foam inside to hold the oils, the dimensions of the inner pouch permit the release of precisely-metered doses of therapeutic scent when squeezed.


All Ascents formulas are non-toxic, hypoallergenic and designed to enhance patient experience in medical, dental and other clinical environments.
Clinical Aromatherapy Palliative + Comfort Care Research
A Comparison of Aromatherapy to Standard Care for Relief of PONV and PDNV in Ambulatory Surgical Patients. J Perianesth Nurs. 2018




CONCLUSIONS: Aromatherapy is an effective way to manage PONV/PDNV.


Efficacy of ginger for nausea and vomiting: a systematic review of randomized clinical trials. Br J Anaesth. 2000




CONCLUSION: Three on postoperative nausea and vomiting were identified and two of these suggested that ginger was superior to placebo and equally effective as metoclopramide. These studies collectively favoured ginger over placebo.

Effects of aromatherapy on sleep quality and anxiety of patients. Nurs Crit Care. 2015 Jul 27





CONCLUSION: Lavender essential oil increased quality of sleep and reduced level of anxiety in patients with coronary artery disease.

Aromatherapy: The Effect of Lavender on Anxiety and Sleep Quality in Patients Treated With Chemotherapy Clin J Oncol Nurs. 2018 Apr 1




CONCLUSION: State anxiety before and after chemotherapy did not vary among groups. The authors compared trait anxiety values before and after chemotherapy and found a significant difference in the lavender group. In addition, a significant change in PSQI measurements before and after chemotherapy was observed.