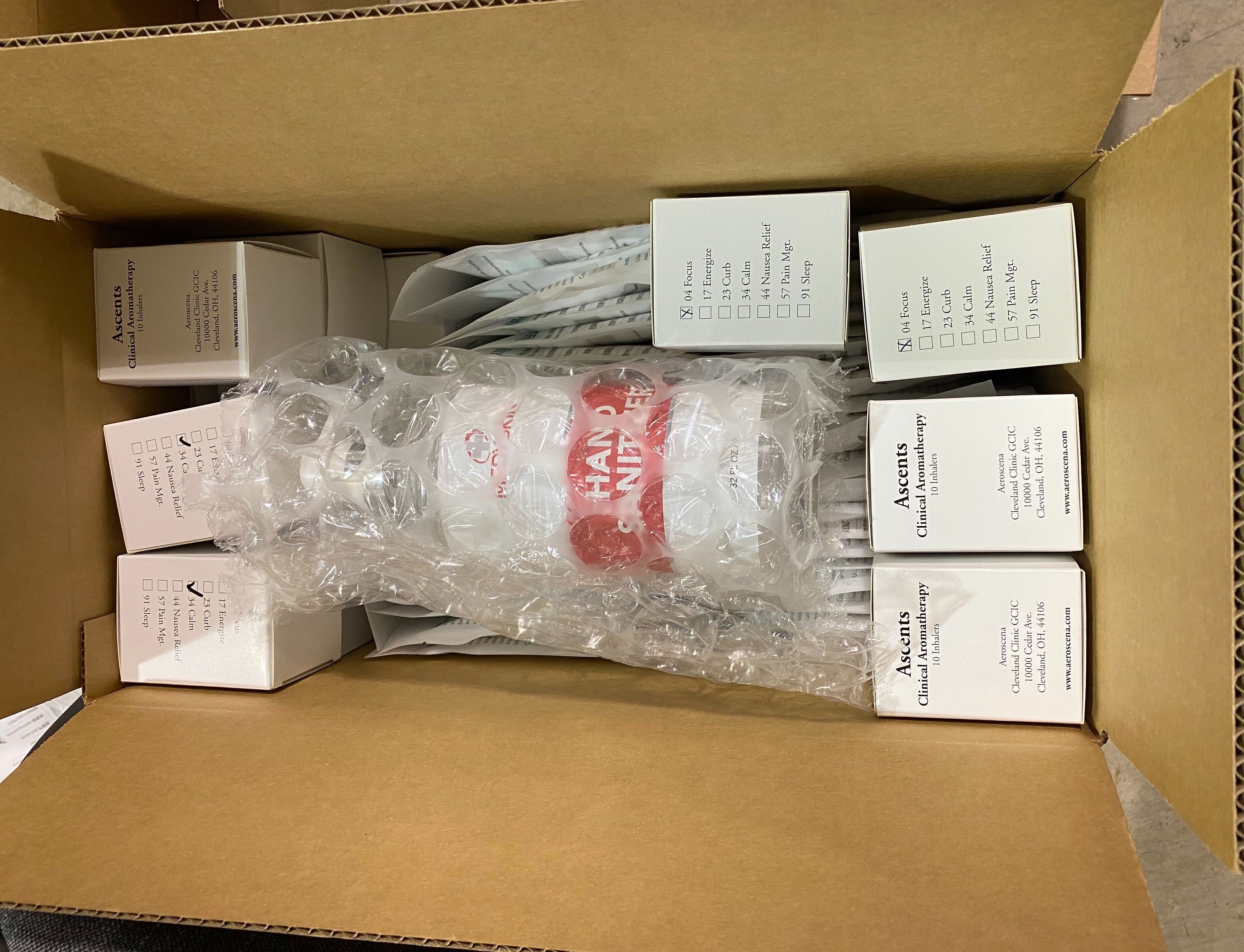 Global Clinical Aromatherapy Leader Aeroscena Donates PPE Care Packages to First-Line Medical Workers During the COVID-19 Pandemic
Clinical aromatherapy leader Aeroscena has assembled and distributed care packages to help meet the needs of first-line medical workers working around the clock to combat COVID-19 in hospitals across the country. Each package contains certified KN95 masks, FDA-approved hand sanitizer, and Ascents clinical aromatherapy inhaler sachets in Calm and Focus formulas to support providers' physical and mental health during these unprecedented times.
CLEVELAND (PRWEB) MAY 07, 2020 -- Clinical aromatherapy research and development leader Aeroscena is supporting front line medical workers in hospitals impacted by the COVID-19 pandemic by sourcing and distributing care packages of much-needed items. Each package contains a combination of personal protective equipment (PPE) and the company's Ascents-brand clinical aromatherapy inhaler sachets. This potent combination aims to address not just the physical health of essential medical personnel, but their mental health as well during these unprecedented times.
Utilizing Manufacturing Connections for the Greater Good
"We kept hearing it repeated over and over in the media that hospitals and nursing homes were running low on PPE, and those on the front line were being forced to reuse masks or even go completely without protection while treating COVID patients," says Mark Kohoot, founder and CEO Aeroscena. "At the same time, we were receiving emails from our manufacturing connections overseas that they had PPE capacity remaining from the Wuhan outbreak, including KN95 masks. It only made sense to purchase what we could and then donate it to our hospital customers and partner medical research institutions to help protect their essential medical personnel."
Help with Hand Sanitizer
Besides KN95 masks, the care packages also include bulk bottles of much-needed, FDA-approved hand sanitizer. "Because our products are used by the healthcare community, it means we constantly interface with medical suppliers, including those that manufacture hand sanitizer," says Kohoot. "We were fortunate to be able to source a limited amount of sanitizer for donation, so we decided to include that in the care packages as well."
Caring for Caregivers' Mental and Emotional Health
The majority of news coverage regarding the impact of COVID-19 on front-line medical workers' health has focused on the immense physical toll of caring for those stricken by the disease. More recently, however, there has been an increase in reporting the ways in which the pandemic is negatively affecting healthcare providers' mental and emotional health, including increases in instances of depression, anxiety, insomnia, and post-traumatic stress disorder (PTSD).
"Many of Aeroscena's Ascents-brand clinical aromatherapy formulas address symptoms similar to those being experienced by essential medical personnel working in facilities overwhelmed by COVID-19, including stress, exhaustion, and difficulty concentrating," says company Vice President, Shannon Eggleton. "While our products were developed for use by patients experiencing the side-effects of various medical treatments like chemotherapy, we realized they could easily be repurposed to help care for caregivers' emotional health. Including our Calm and Focus essential oil inhaler sachets as part of the donated supplies seemed like the right thing to do in order to address multiple health concerns at once."
The care packages shipped the week of 4/27 and were delivered to hospitals and other care centers across the U.S., including Moffitt Cancer Center (Tampa, FL), University Hospitals (Cleveland, OH), VCU Medical Center (Richmond, VA), Children's National Hospital (Washington, D.C.). Also included was Nebraska Children's Hospital (Omaha). "Aeroscena's thoughtfulness and generosity are cherished," said Dr. Meaghann Shaw Weaver, Children's' Chief of Pediatric Care, of the donation. "We are sincerely grateful for their offering!"
About Aeroscena®:
Established in 2010, Aeroscena is the corporate research and development organization behind Ascents®-brand clinical aromatherapy. Aeroscena has designed the first scientifically-recognized platform for essential oil and aromatherapy R&D for both therapeutic (OTC drug) and CPG (natural, functional fragrance) use.
Ascents' evidence-based essential oil formulas are "recommended by doctors, used by hospitals®".
Aeroscena is located in the Cleveland Clinic Global Cardiovascular Innovations Center in Cleveland, OH. Aeroscena®: The Science of Scent™.