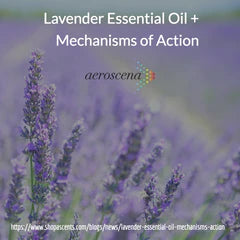 Lavender Essential Oil: Mechanisms of Action for Decreasing Anxiety and Stress
(Or, how and why does lavender essential oil work?)

Lavender oil (Lavandula angustifolia) is one of the most commonly used essential oils for stress and anxiety. In fact, it may be the most popular essential oil on the market, due to both its efficacy and its pleasing scent. Although the use of lavender oil is ubiquitous, to most, its mechanisms of action — the hows and whys of the way it works — still remain a mystery.

 
Medical Professional?

Does lavender essential oil actually work to decrease anxiety and stress?
The short answer is, "yes" -- lavender oil does decrease feelings of anxiety and stress. How well it works, however, depends on multiple variables, in particular the specific use case and the quality of the essential oil itself. According to multiple scientific studies, lavender essential oil can be an effective treatment option for anxiety (1), as long as the oils constituent chemical makeup is unadulterated and in the correct ratios to make it so. Understanding an essential oil's chemical makeup and ensuring that it contains all of the proper constituents — and nothing that it shouldn't — is one of the most important factors to consider when purchasing an essential oil.
Lavender essential oil: mechanisms of action for stress and anxiety
What does the scientific community say about lavender oil's effects on anxiety?
A 2014 study revealed that lavender inhalation (aromatherapy) decreased the activity of sympathetic nerves that innervate white and brown adipose tissues, the adrenal glands and the kidneys, resulting in a decrease in lipolysis, thermogenesis and blood pressure. Olfactory stimulation (inhalation) with the scent of linalool on its own — a component of lavender oil — had similar effects to stimulation with lavender essential oil, demonstrating linalool's efficacy (2).
Quality and consistency of lavender oil can make or break its efficacy for treating anxiety and stress
What we have found is that essential oils are complex materials. Even variables like seasonality and other natural factors can make the essence of each plant unique and changeable month to month and year over year. For example, the same Lavandula angustifolia grown at a higher altitude tends to be more useful for sleep disorders, anxiety and other calming effects. The same plant at a lower altitude will contain slightly more of the alcohols, making the oil slightly more effective in the treatment of wounds, while remaining an effective anxiolytic agent.
---
(1) Essential oil of lavender in anxiety disorders: Ready for prime time?Ment Health Clin. 2017 Jul; 7(4): 147–155. Published online 2018 Mar 26. doi: 10.9740/mhc.2017.07.147 Benjamin J. Malcolm, PharmD, MPH and Kimberly Tallian, PharmD, BCPP, FASHP, FCCP, FCSHP
(2) Olfactory stimulatory with grapefruit and lavender oils change autonomic nerve activity and physiological function.
Auton Neurosci. 2014 Oct;185:29–35. doi: 10.1016/j.autneu.2014.06.005. Epub 2014 Jun 25. Nagai K, Niijima 2, Horii Y, Shen J, Tanida M.
(3) Effects of lavender olfactory input on cosmetic procedures.
J Cosmet Dermatol. 2011 Jun;10(2):89–93. doi: 10.1111/j.1473–2165.2011.00554.x. Grunebaum LD, Murdock J, Castanedo-Tardan MP, Baumann LS.
(4) The effects of lavender oil inhalation on emotional states, autonomic nervous system, and brain electrical activity.
J Med Assoc Thai. 2012 Apr;95(4):598–606. Sayorwan W1, Siripornpanich V, Piriyapunyaporn T, Hongratanaworakit T, Kotchabhakdi N, Ruangrungsi N.