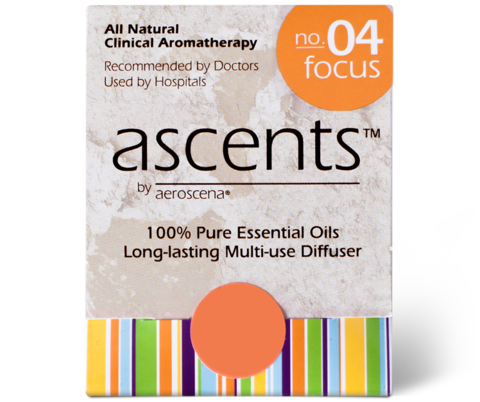 Clinical Aromatherapy and its Effects on Focus, Memory and Attention
Issues with attention can be present across age groups. Diagnoses of ADHD in childhood and adulthood have been on the rise for decades. Cognitive impairment in older adults often presents in the form of memory loss or problems with recall.

While clinical aromatherapy is not a cure for problems with memory, focus and attention, there are essential oils and formulas that contain chemical compounds which have demonstrated a great deal of promise as adjunct therapies intended for symptomatic relief. 
Take peppermint essential oil (Mentha x piperita L.), for example. A study in the International Journal of Neuroscience assessed cognitive performance using the Cognitive Drug Research computerized assessment battery. The research demonstrated that exposure to peppermint oil scent enhanced memory (1). 
Another paper found that essential oils, including frankincense (Boswellia serrata), may have a valid role in the management of attention deficit hyperactivity disorder (ADHD) (2).
Yet more research, this time on essential oil of rosemary (Rosmarinus officinalis), was completed in order to assess its olfactory impact on cognitive performance and mood in healthy volunteers. Comparisons of the change in ratings from baseline to post-test revealed that following the completion of the cognitive assessment battery, the rosemary group was more alert and content than other tested groups (3). 
Rosemary has also shown promise in other studies, too, including a 2009 study that concluded, based on study results, it had the potential to be an efficacious, non-pharmacological therapy for dementia. This was based on resultant improvements in the cognitive function of Alzheimer's patients who were exposed to rosemary aromatherapy (4).
Ascents® Focus No. 04 personal inhalers give parents, clinicians and caregivers a straightforward, first-line, patient-administered treatment option to enhance concentration and attention that can be used with our without pharmaceutical interventions, with no concern of side effects, overdose, abuse or addition. 
Focus No. 04 Ascents® Gels, when used with the Ascents® whole-room diffuser system, are already being used in nursing homes, elder care and memory care facilities as a hands-off way to deliver consistent doses of clinical aromatherapy to larger patient populations all at once.
Why is Ascents® Focus so effective? Its proprietary aromatherapy formula was created based on constituent essential oils which have already shown enormous promise via scientific research to help control symptoms of attention deficits and memory loss (1, 2, 3, 4). 
In other words, it is based entirely on what's been proven by clinical studies. That's why we can say that Ascents® is recommended by doctors, and used by hospitals®. Clinicians trust Ascents® to base our products only on valid scientific research, and therefore, trust us to make products that work. 
For more information about Ascents® Clinical Aromatherapy products, including the Focus No. 04 formula, visit ShopAscents.com. To learn more about Aeroscena®'s commitment to clinical aromatherapy research and essential oil quality, visit Aeroscena.com. 
------------------------------------------------------------------------------------------------
(1)Modulation of cognitive performance and mood by aromas of peppermint and ylang-ylang. Int J Neurosci. 2008 Jan;118(1):59-77. Moss M(1), Hewitt S, Moss L, Wesnes K.
(2)The role of essential oils in the treatment and management of attention deficit hyperactive disorder. International Journal of Aromatherapy Heather Godfrey, BSc`
(3)Aromas of rosemary and lavender essential oils differentially affect cognition and mood in healthy adults. Int J Neurosci. 2003 Jan;113(1):15-38.
Moss M(1), Cook J, Wesnes K, Duckett P.
(4)Effect of aromatherapy on patients with Alzheimer's disease. Psychogeriatrics. 2009 Dec;9(4):173-9. doi: 10.1111/j.1479-8301.2009.00299.x. Jimbo D(1), Kimura Y, Taniguchi M, Inoue M, Urakami K.