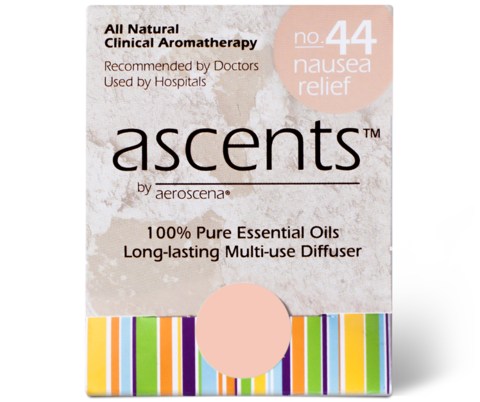 Clinical Research Demonstrates Ascents® Nausea Relief Formula May Outperform Pharmaceutical Protocols for PONV
Aeroscena®, the parent company and research division of Ascents® clinical aromatherapy, is teaming up with one of the top children's hospitals in the nation to study pediatric post-operative nausea and vomiting.

The IRB study is currently in process and is expected to publish in June. Early results show that in a randomized, double-blind study, Ascents® Nausea Relief No. 44 outperformed the pharmaceutical protocol normally followed in post-anesthesia care.
This research is extremely promising, as PONV is an incredibly problematic side effect with reported incidences of 30% overall and 80% in high-risk patients.(1)  Additionally, it can cause a number of serious medical issues for those recovering. Complications include aspiration of gastric contents and oesophageal rupture, but the primary side effect of nausea and vomiting itself is unpleasant enough to make it the most common cause of patient dissatisfaction after anesthesia.
Additionally, PONV is regularly rated in preoperative surveys as the postoperative side effect patients would most like to avoid. In fact, patients across Europe and North America express a high willingness-to-pay ($50–100) to avoid PONV. (1)
While the more serious complications are rare, even less-severe instances of PONV can result in the delay of patient discharge from post-operative care units and increase both hospital admissions in outpatients (1) and rates of readmission of those previously discharged.
Ascents® Nausea Relief No. 44 personal inhalers give clinicians a straightforward, first-line, patient-administered treatment option to decrease patient nausea related to PONV (2), before resorting to harsh pharmaceutical solutions. 
How? By utilizing a proprietary aromatherapy blend formulated from constituent essential oils which have already shown enormous promise in the treatment of nausea and vomiting via rigorous, scientific research (3, 4, 5, 6, 7, 8).
This is what makes Nausea Relief No. 44 so effective -- it is based entirely on what's been proven by clinical studies. Not on internal "studies" by "researchers" on our payroll. Not on folklore or second- and third-hand reports. Just science, and science, only.
For more information about Ascents® Clinical Aromatherapy products, visit ShopAscents.com. To learn more about Aeroscena®'s commitment to clinical aromatherapy research and essential oil quality, visit Aeroscena.com. 
------------------------------------------------------------------------------------------------
(1) Nausea and vomiting after surgery
Sébastien Pierre, MD Rachel Whelan
Continuing Education in Anaesthesia Critical Care & Pain, Volume 13, Issue 1, 1 February 2013, Pages 28–32, https://doi.org/10.1093/bjaceaccp/mks046
Published: 11 August 2012


(2) A Comparison of Aromatherapy to Standard Care for Relief of PONV and PDNV in Ambulatory Surgical Patients.
J Perianesth Nurs. 2018 Apr;33(2):116-128. doi: 10.1016/j.jopan.2016.09.001. Epub 2017 Mar 16.; Stallings-Welden LM, Doerner M, Ketchem EL, Benkert L, Alka S, Stallings JD.

Conclusion: Aromatherapy is an effective way to manage PONV/PDNV. Gender and age were the most important predictors of PONV.

(3) Aromatherapy Versus Oral Ondansetron for Antiemetic Therapy Among Adult Emergency Department Patients: A Randomized Controlled Trial.
Ann Emerg Med. 2018 Feb 17. pii: S0196-0644(18)30029-5. doi: 10.1016/j.annemergmed.2018.01.016; April MD1, Oliver JJ2, Davis WT2, Ong D2, Simon EM2, Ng PC2, Hunter CJ2.
Conclusion: Among ED patients with acute nausea and not requiring immediate intravenous access, aromatherapy with or without oral ondansetron provides greater nausea relief than oral ondansetron alone.


(4) Efficacy of ginger for nausea and vomiting: a systematic review of randomized clinical trials.
Br J Anaesth. 2000 Mar;84(3):367-71. Ernst E(1), Pittler MH.

Conclusion: Three studies on postoperative nausea and vomiting were identified and two of these suggested that ginger was superior to placebo and equally effective as metoclopramide. One study was found for each of the following conditions: seasickness, morning sickness and chemotherapy-induced nausea. These studies collectively favoured ginger over placebo.
PMID: 10793599  [PubMed - indexed for MEDLINE]


(5) Ginger Essence Effect on Nausea and Vomiting After Open and Laparoscopic Nephrectomies.
Nurs Midwifery Stud. 2015 Jun;4(2):e28625. doi: 10.17795/nmsjournal28625. Epub 2015 Jun 27. Hosseini FS(1), Adib-Hajbaghery M(2).

Conclusion: Using ginger essence was effective in reducing nausea and vomiting not only in the subjects who underwent open nephrectomy but also in the subjects of laparoscopic nephrectomy. Using ginger essence is suggested as a complementary remedy to prevent and treat post-operative nausea and vomiting in patients with nephrectomy. PMCID: PMC4557412 PMID: 26339671  [PubMed]


(6) Ginger-Mechanism of Action in Chemotherapy-induced Nausea and Vomiting: A Review. 
Crit Rev Food Sci Nutr. 2015 Apr 7:0. [Epub ahead of print]
Marx W(1), Ried K, McCarthy AL, Vitetta L, Sali A, McKavanagh D, Isenring E.

Conclusion: Despite advances in anti-emetic therapy, chemotherapy-induced nausea and vomiting (CINV) still poses a significant burden to patients undergoing chemotherapy. Nausea, in particular, is still highly prevalent in this population. The evidence presented in this review indicates that ginger possesses multiple properties that could be beneficial in reducing chemotherapy-induced nausea and vomiting. PMID: 25848702  [PubMed - as supplied by publisher]
(7) Antiemetic activity of volatile oil from Mentha spicata and Mentha × piperita in chemotherapy-induced nausea and vomiting.
Ecancermedicalscience. 2013;7:290. doi: 10.3332/ecancer.2013.290. Epub 2013 Jan 31. Tayarani-Najaran Z(1), Talasaz-Firoozi E, Nasiri R, Jalali N, Hassanzadeh M.

Conclusion: M. spicata (spearmint) or M. × piperita (peppermint) essential oils are safe and effective for antiemetic treatment in patients, as well as being cost-effective. PMCID: PMC3562057
(8) Aromatherapy as treatment for postoperative nausea: a randomized trial.
Anesth Analg. 2013 Sep;117(3):597-604. doi: 10.1213/ANE.0b013e31824a0b1c. Epub 2012 Mar 5.Hunt R(1), Dienemann J, Norton HJ, Hartley W, Hudgens A, Stern T, Divine G.

Conclusion: The hypothesis that aromatherapy would be effective as a treatment for PON was supported. On the basis of our results, future research further evaluating aromatherapy is warranted. Aromatherapy is promising as an inexpensive, noninvasive treatment for PON that can be administered and controlled by patients as needed. PMID: 22392970  [PubMed - indexed for MEDLINE]